Stephanie Gallon managed to catch a quick word with Darren Shan when he was in Newcastle, and got to talk about the most Gothic and horrific of his series, The Demonata. Book one of the series, Lord Loss (2005) was a global success and in 2006 it won the Redbridge Teenage Book award. It was also shortlisted for four other awards.
Darren Shan, a pseudonym adopted by Darren O'Shaughnessy, is the author of many Young Adult horror books. He has authored two children's series, and is currently writing the third. His most famous series is the Darren Shan saga, a 12-book series about vampires. The film rights to the series were purchased by Harper, and in 2009 Cirque du Freak was premiered.
When asked about his inspiration for the Lord Loss, Shan had this to say:
"I actually wrote Lord Loss many years ago as a stand-alone book. You'll like it; there are werewolves in it. Lord Loss is a werewolf and there are more to come. But I had the idea of the poem that starts the book off. I was a poet when I was younger, and it just stuck with me all these years. Lord Loss. I remembered it and I had to write it. And this is what it became. The Demonata. I enjoyed writing it."
Shan's books are noted for being dark and gruesome, especially for literature aimed at young people. By the second chapter of Lord Loss, our hero has walked in to find his entire family massacred, their disembodied corpses left for him to find. It leads him to the brink of madness, all caused by the demon Lord Loss.
Critics claim that Lord Loss is "is not a book for young readers or anyone with a weak stomach" (Young Post UK). Shan would disagree, intentionally publishing under his children's fiction nom-de-plume instead of his adult name, Darren Dash. Violence and grisly subject matter aside, its core demographic is teenagers and horror fans. It is Gothicism in its most mainstream of incarnations, dealing with monsters, madness and transgressions of not only genre conventions but in subject matter—murder for children.
When asked if he preferred vampires or werewolves, both creatures he has used in his series, Shan had this to say:
"Vampires! They're the most human of all the monsters. Werewolves and zombies are scary, but they're all about the chase. Chasing you, killing you. That works, but it gets a bit boring after a while. It's why I made sure my zombies could speak. I don't want them groaning and boring. Vampires are the most human, they walk among us. They're clever. Vampires, to me, are the best monsters."
Shan speaks not as an academic but as a writer, shedding a new source of light on the idea of the monster. He does not study the monster, but rather uses the monster in his craft. It is a reminder to us that the way writers adapt monsters from their traditional roots is done in the interests of maintaining a narrative.
Of course, the admin couldn't resist meeting him without getting him to sign a book.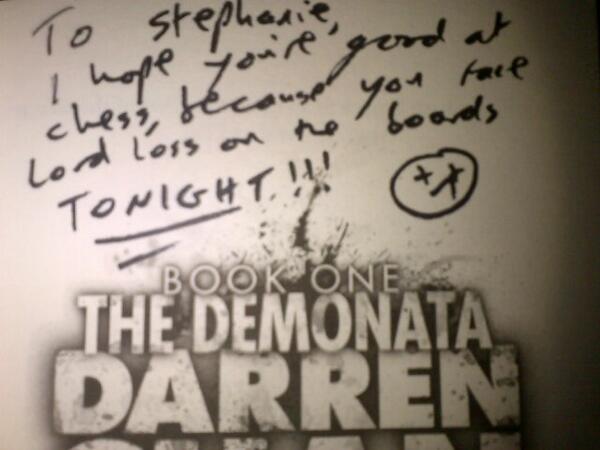 The eighth book in the Zom-B series was released in the UK last week: Zom-B Clans. The Zom-B series follows B, a teenage girl in a world after a zombie outbreak. The series is receiving critical acclaim worldwide. A new book is released every three months, with the last book due to be published in summer next year.